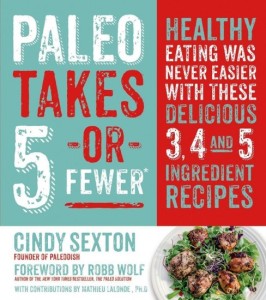 Welcome to the first instalment of Check Out. A series in which we preview books, films, events and other media worth 'checking out'.
Two common complaints often levelled at the Paleo diet are it's far too time-consuming and expensive . This is because of the perceived complexity of ingredients required and the preparation time in making all those delicious meals we feast upon. Cindy's book, Paleo Takes 5 – Or Fewer, promises to tackle both problems. In fact it's so confident in its modus operandi that its the centrepiece of the book's blurb:
"Save time and money with healthy Paleo dishes using fewer ingredients!"
We like the sound of that, and what Paleo food aficionado wouldn't? The book splits recipes into three main sections: dishes with three ingredients, dishes with four ingredients and dishes with (you've guessed it) five ingredients. In addition to this there's a 'nutrient density fact' with each recipe (if you're keen to learn a little more about nutrition one dish at a time) as well as a 'Vitamins' and 'Minerals' section towards the end of the book.
You may still be wondering why in a marketplace full of Paleo recipe books we're particularly excited about this one. Well even disregarding the lack of ingredients required for each recipe and the time-saving benefits (more time to play, relax and sleep) there's been a whole heap of praise and a huge buzz for this book from some of the most significant experts in the Paleo-Primal sphere. Robb Wolf, Chris Kresser, Mark Sisson, Greg Everett and Michelle Tam have all sang the praises of this book – and that's just five experts from a long list of Paleo stalwarts shouting about Paleo Takes 5 – Or Fewer. Robb Wolf, so confident in his recommendation, has even provided an introduction.
Check out the blurb and decide for yourself whether this is worth a read, we're certainly looking forward to it.
Sticking to the Paleo diet can be hard, especially when the recipes call for a lot of ingredients. Luckily, Cindy Sexton, creator of PALEOdISH.com, has numerous creative and delicious recipes that use very few so shopping and cooking are a snap.

You won't believe the incredible dishes you can make with five or fewer ingredients, including: Gingered Balsamic Date Glazed Chicken Legs, Pork Belly With Creamy Garlic Mashed Potatoes, Bacon-Crusted Chicken Strips, Mushroom and Sausage Beef Roll and Buttery Lamb Chops Infused with Mint and Lemon. In Paleo Takes 5 – Or Fewer, Cindy gives you ingredients that have the most nutrient density so each recipe packs a healthy punch. Sticking to the Paleo diet has never been so easy.
Paleo Takes 5 – Or Fewer was released on 21 October by 2014 by Page Street Publishing.
Find out more about Cindy Sexton on her website PALEOdISH.com
Check out our Paleo Minds affiliate links below. Every time you buy through them Amazon will kick back a small portion of the sale to us which helps with the day-to-day costs of the website such as domain names, website hosting and artwork.
Paleo Takes 5 – Or Fewer by Cindy Sexton (Amazon UK)
Paleo Takes 5 – Or Fewer by Cindy Sexton (Amazon US)
Subscribe to the Newsletter
Never miss a post again